Hospitalization
Prior to hospitalization
We ask for your cooperation to take and record your temperature daily starting one month prior to admission.
You will be asked to take a COVID-19 test at our hospital to confirm that you test negative.
Please take good care of your health and inform the doctor/nurses if any changes in your health condition upon admission.
We recommend that you be vaccinated against the COVID-19 as much as possible prior to hospitalization.
Procedure on the day of admission
Please come to the Admitting desk on the first floor, next to Pharmacy by 10 o'clock on the day of admission unless otherwise notified by your doctor. Please bring Japanese health insurance card, if you have one, hospital ID card and registration forms for admission.
In case you are admitted after hours, we'd like you or your family to complete the procedure within the next day or two.
If you don't present your Japanese health insurance card, all the cost shall be out-of-your- pocket expense.
Things to bring on the day
Toiletry goods (incl. toothbrush)
Pajamas
Something to wear over pajamas (gown, cardigan, etc.)
Underwear
Kleenex
Shampoo, hair conditioner and body soap (except for Room Type A, B, and C)
Things specified by the department
Things in your room

An electric pot, a plastic cup (for gargle), one bath towel and two face towels per day, a soap, chopsticks, spoon and fork, a mug and complimentary slippers.
Bringing dangerous goods is prohibited; these include, but not limited to, a knife, something that uses fire, such as candles, incense sticks, incense, kerosene lamps, or something that can cause fire, such as electric heater.
There are Hair dryers for rent at the nurse station. Please ask your nurse for it.
Slippers prepared are disposable and plain. If you expect to use for a long time or expect to have rehabilitation during your stay, please bring your own room shoes that you are accustomed to.
Visiting hours and precautions
Ward visit is allowed under certain conditions. Please ask for details at the time of admission.
Visiting hours: every day from 3 to 6 pm


Please observe the visiting hours strictly.

We do not answer any inquiries about hospitalized patients (their presence, hospital room number etc.) to protect personal information. If you are planning a visit, please confirm room number, etc. from the patient or from his/her families in advance.
We have security gate installed in each ward for the security of inpatients. Patients and visitors are requested to drop by the nurse station and a nurse will unlock the gate.
Depending on patient's condition and/or treatment schedule, visiting may be limited.
Please refrain from visiting in a large group as it annoys other patients.
Smoking and alcohol drinking are prohibited in the hospital.
Those who are drunk or sick are not allowed to visit our patients.
There are limited numbers of pay (*) parking lots on the basement 2.

It costs Yen400 per every 30 min. The first 10 min parking is free of charge.




Parking closes at 8 pm. If you use it after 8 pm, please let a ward nurse know.

In order to maintain hospital security, we may ask visitors their names. Also, we ask all visitors to fill in the visitors list. Thank you for your cooperation.
Discharge and Payment
We basically ask a patient to leave the hospital at 11 am. If you'd like to change your discharge time for a compelling reason, please discuss with our staff in advance.
If you'd like to know the estimated cost for hospitalization, please let our staff know.
The bill will be delivered to your room on the day of discharge. Please make a payment at cashier on the 1st floor. However, for a long hospitalization (about 2 weeks or longer), closing takes place on the 10th, 20th, and in the end of each month, and the bill will be delivered to you in the next day or two. Please kindly pay at cashier within 3 days after receipt of each bill.
The cashier's windows are open every day from 9 am to 5 pm (incl. Sat, Sun, and holidays).
You can pay in cash, by credit card (listed below) or debit card (*2).



2.Enter PIN number into the equipment at the cashier and your hospital fee will be withdrawn directly from your bank account to complete your payment. You can use your debit card anytime during the hour listed above if there is enough balance in your bank account.

Withdrawal limit per day may vary among banks.
Some bank cards may not be acceptable. Please check your bank for its eligibility.
Personal checks are not acceptable.
There is no ATM placed in the hospital (but there's one close by, outside the hospital).
A deposit for hospitalization
A deposit is required upon admission.
| | |
| --- | --- |
| General hospitalization for 5 days or longer | ¥150,000 |
| Hospitalization for Childbirth | ¥500,000 |
You can pay the deposit in cash, or by credit card or debit card. (Please check daily spending limit of your card in advance.)
In case of after-hours admission, please make a payment on the following day.
Please keep the receipt for the deposit until the settlement for discharge.
Hospital guide during your hospitalization
At Sanno Hospital, each staff commits oneself to provide patient-oriented services for your comfortable stay. Please follow your doctor or nurses' instructions and respect the following rules during your hospitalization.
Medication
Please let your doctor or nurse know all the medications, supplements and topical medications that you are using. Please bring all the necessary medication. If you have Prescription notebook, please present it to a nurse.
Examinations
Your doctor or nurse will brief you about your examination beforehand. Some examinations require fasting or changing of meal time.
Meals
We serve breakfast from 7:30 am, lunch from noon, and dinner from 6 pm. Depending on your medical condition, therapeutic diet may be served according to your doctor's instructions. Please do not bring food in to prevent food poisoning and for treatment reasons.
Wristband
In order to avoid misidentification of patients, all patients are asked to wear a wristband during their hospital stay.
Outing / Sleep out
Doctor's permission is required for outing or sleeping out. Please fill out the specified application form and give it to the nurse in advance. (If you go out of hospital premises even for a short time, it requires permission). During your hospitalization, you basically cannot visit another physician in another facility.
Attendant / Orderly
Basically an attendant or orderly is not required. If you wish to have your family stay with you for your medical conditions, etc., please get your doctor's permission in advance. Depending on your condition, your request may not be allowed, especially for the overnight stay.
Bathing
Doctor's permission is required. There are Hair dryers for rent at the nurse station. Please ask your nurse for it.
Time for lights-out
Lights out for hospital ward is at 9 pm.
Bedsheet and Towel
Bedsheets are changed twice a week. A bath towel and two face towels are changed every day.
Cleaning
We clean your room every day. If you have any requests, please let your nurse know.
TV & DVD Player
TV and DVD player are available in each room for free. (Blu-ray isn't available)
Telephone / Cell phone
To prevent malfunction of medical devices, please use cellular phone in "Cell Phone Area" in the vicinity of public phone located in the lobby on the first floor.


Hospital staff uses hospital PHS which has the minimum impact on medical devices.

When you call from your room phone, dial 0 for outside calls.
The operator forwards incoming call to inpatients' room between 8:30 am and 9 pm except for an emergency. If a caller cannot give inpatient's name and room number, we cannot forward the call, so please let your family or persons involved know in advance.
Internet access
Wi-Fi Internet access is available for the convenience of inpatients and their families.
We ask users to limit their use within the range that does not affect their health, which is of utmost importance during hospitalization.
The SSID and password required to use Wi-Fi are placed in your room.
The use of this requires your consent to the Terms of Use given on your hospital-ization explanation, and your use signifies your acceptance of the Terms of Use.
Precautions for use

This service is available between 6 am and 10 pm, and shall be used within the range that does not interfere with medical treatment.
The area of use will be in the hospital ward.
The devices necessary for use will be prepared by the users and will not be rented from the hospital.
The users are responsible for making connections and configurations, and the hospital cannot answer technical questions or assist the connections.
This is a free service, but the paid service on the Internet shall be borne by the users.
Patients are responsible for security and virus infection while connected to the Internet.
Please note that we are not responsible for any troubles that may occur when using this service.
Valuables / Cash
Keep your valuables in a safety box. We assume no responsibility or liability for any loss or theft of valuable items such as wallet. Please refrain from bringing substantial amount of cash other than your hospitalization fee.
Smoking / Drinking
No smoking in our hospital premises. Inpatients are not allowed to drink alcohol.
Hospital room
Please confirm the location of the emergency exit (staff shows you where on your admission). In case of a disaster, please follow the instructions of hospital staff.
Please wear a gown etc. when you go out of your room.
Limit your belongings so that they can be kept in drawers and shelf in your room.
No posters, etc. on the wall of your hospital room.
Do not touch the medical instruments equipped on the wall.
Please note that we may ask you to pay for the damages of apparatuses in the room.
Do not enter other hospital rooms or let others enter your room. We lock the door of your room in case you leave your room for a long time. When you leave, please let your nurse know.
Humidifier is not allowed for infection control reasons. And please refrain from bringing something that gives out a strong smell such as aroma and fragrance.
Others
In case of emergency, press nurse call button to call our staff. Confirm its usage in advance, and if you have any questions, please ask us.
In order to undergo a safe surgery or delivery, we ask our patients to remove manicure, pedicure, gel nails, eyelash extensions, etc. and rings and accessories.
If you wish to visit other departments during your hospital stay including the day of discharge, please let your attending nurse know about it.
We have to check your health insurance card every month even for a hospitalized patient. Please kindly bring your insurance card for checking to the reception desk on the 1st floor.
For any concern or questions during your hospitalization, please let a nurse know.
If you wish to subscribe to a newspaper (with charge), please ask at the nurse station.
Coin washers are available on the basement floor of the main building of Sanno Hospital.
During your hospital stay, we keep your hospital ID card at the nurse station.
To maintain hospital order and to provide medical treatment, patients and visitors may be asked to leave the hospital if they do not follow the directions of the doctor/staff, or do prohibited acts, or cause trouble to other patients.
NOTES
Photographing and recording without permission are prohibited in our facilities and premises. And even with permission, please respect the following.
Avoid taking video/pictures that may capture other patients, doctors and /or hospital staff together.
Avoid uploading your photos/movies to your SNS which is open to unspecific majority
We sometimes receive inquiries from the visiting patients and their families about gratuities and gifts for hospital staff. We appreciate your considerations, however, we are strictly prohibited from accepting them. Please understand in order to maintain a healthy medical environment. If you consider giving, our hospital appreciates your offerings in a form of donation to the fund to enhance hospital facilities and to train our medical staff. For details, please contact your nearest staff.
Shop and Restaurant on the 7th Floor of Sanno Hospital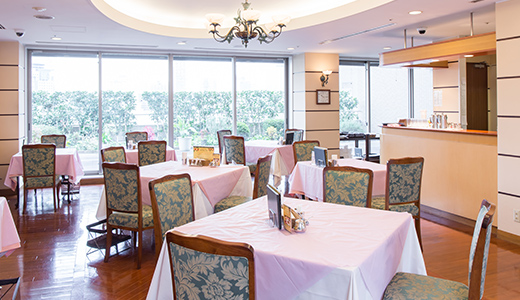 You can enjoy coffee/tea, light meals, and full-course meals in a leisurely setting at Restaurant Aube. There is also a private room available for use (free of charge, booking required) for celebratory parties for the birth of a child or leaving the hospital.
Shop
Mon - Sat: 10 am to 5 pm, Closed on Sun and national holidays
Restaurant Aube
Mon - Fri : 11 am to 5:30 pm (L.O. 5 pm), Sat: 11 am to 3:30 pm (L.O. 3 pm)
Closed on Sun and holidays
Hospital rooms
Comfortable hospital stay in a hotel-style private room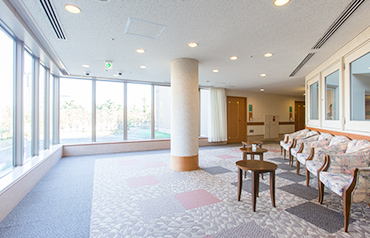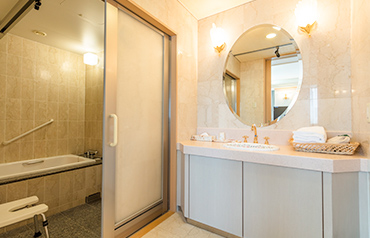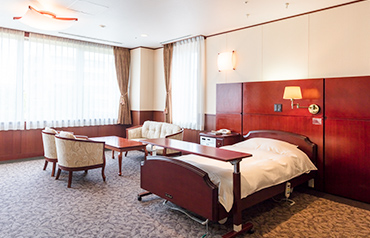 Each hospital ward is lit by an atrium skylight, and is connected to a rooftop garden, etc., creating a bright atmosphere surrounded by nature, where you can spend a relaxing time. Our hospital rooms are private with an attached bath and toilet, arranged to respect your comfort and privacy. There are six types of rooms, from the 20 sq. meter standard rooms, to rooms of 70 sq. meters with an attached drawing room/office. Each room has internet access and is equipped with TV with satellite broadcasting and DVD. As the devices like piping for medical gas and suction equipment discreetly rest behind the woodgrain console, you can spend your hospital stay as if you were in a hotel room with our warm and careful nursing system.
Giving Birth in Peace under the Compassionate Nursing Care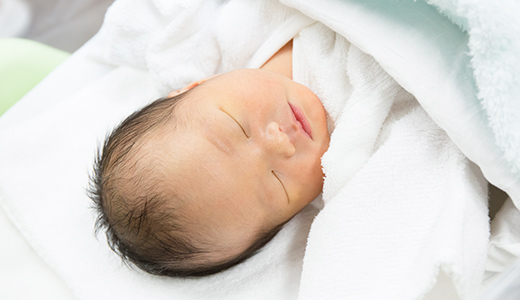 In a maternity ward, you can give birth in peace with attentive care by nursing staff.
We also have LDR rooms for the labor, delivery, and recovery to alleviate expectant mothers' tension, to give opportunity to welcome the arrival of baby with families, equipped with the facilities to respond to unexpected situations. After delivery, you can shower your baby with love in the warm environment where you stay together with your little one. Experienced midwives and nurses carefully and responsibly conduct newborn guidance, puerperal guidance and breast massage instruction, etc.
Type A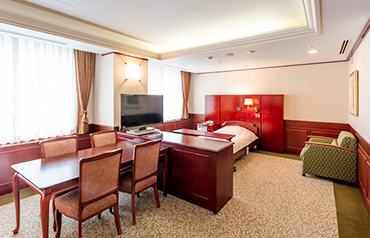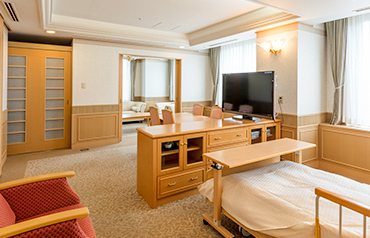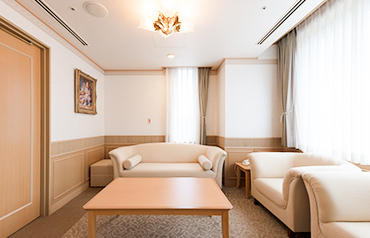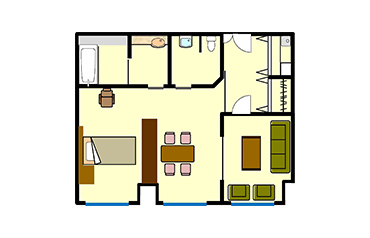 Type B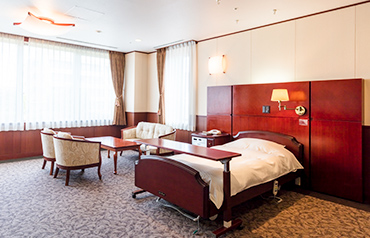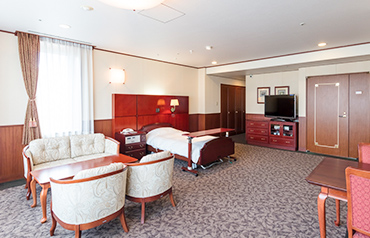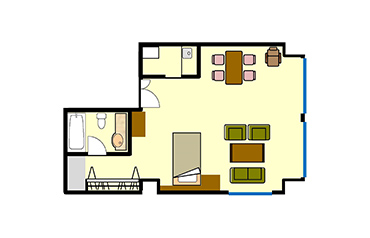 Type C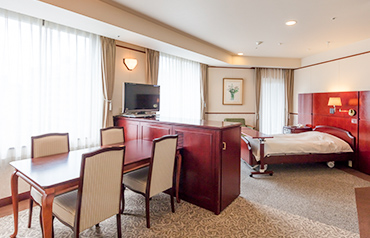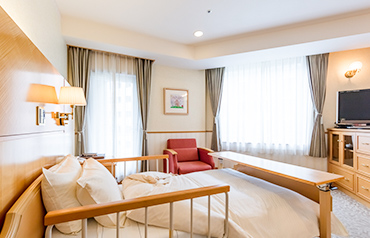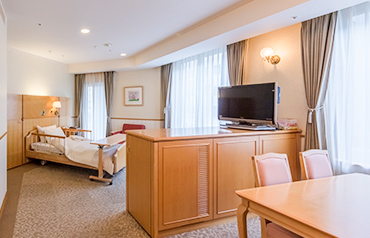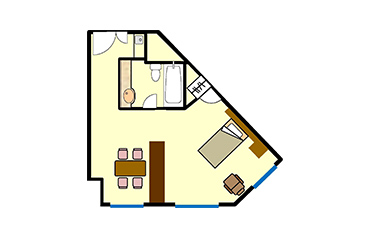 Type D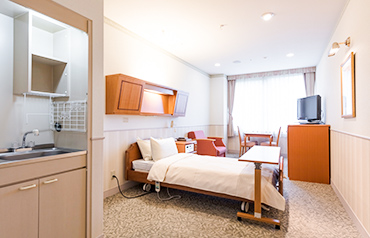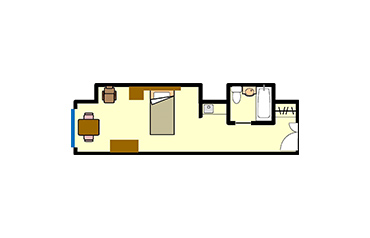 Type E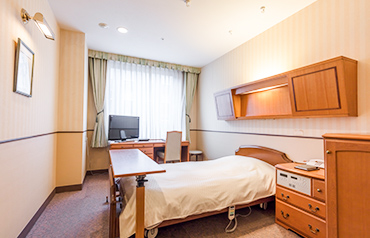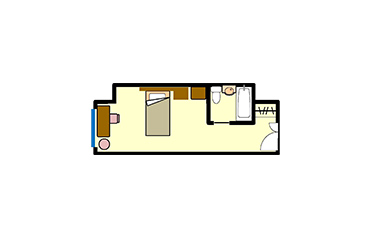 Type F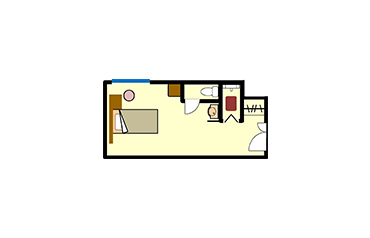 LDR Room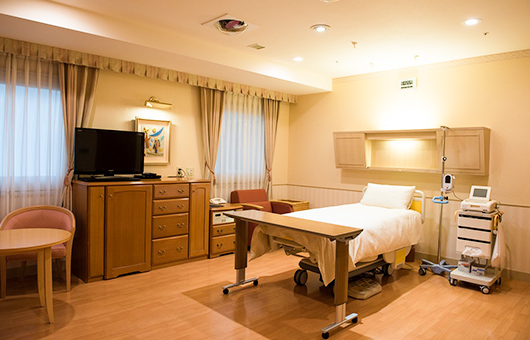 We also have 2 LDR rooms which usually are labor rooms with warm atmosphere, change into delivery rooms with the latest medical equipment upon delivery. To give birth in an LDR room lessens expectant mothers' mental and physical strain, as it has functions to manage emergency situations.
Type of Rooms
Room Type
Number of beds
Bath & Shower
Toilet
Kitchen
Fridge
TV・
DVD
Phone
Table
Chest
Drawing Room
A
6F
1
●
●
●
●
●
●
●
●
●
5F
4F
1
B
6F
1
●
●
●
●
●
●
●
●
5F
4F
C
6F
1
●
●
●
●
●
●
●
●
5F
2
4F
2
D
6F
●
●
●
●
●
●
●
●
5F
5
4F
4
D'
6F
●
●
●
●
●
●
●
●
5F
1
4F
1
E
6F
14
●
●
●
●
●
●
●
5F
15
4F
12
E'
6F
1
●
●
●
●
●
●
●
5F
4F
F
6F

Shower only

●
●
●
●
●
●
5F
4F
2
A
Number of beds
6F:1、4F:1
Facility
Bath & Shower、Toilet、Kitchen、Fridge、TV・DVD、Phone、Table、Chest、Drawing Room
B
Number of beds
6F:1
Facility
Bath & Shower、Toilet、Kitchen、Fridge、TV・DVD、Phone、Table、Chest
C
Number of beds
6F:1、5F:2、4F:2
Facility
Bath & Shower、Toilet、Kitchen、Fridge、TV・DVD、Phone、Table、Chest
D
Number of beds
5F:5、4F:4
Facility
Bath & Shower、Toilet、Kitchen、Fridge、TV・DVD、Phone、Table、Chest
D'
Number of beds
5F:1、4F:1
Facility
Bath & Shower、Toilet、Kitchen、Fridge、TV・DVD、Phone、Table、Chest
E
Number of beds
6F:14、5F:15、4F:12
Facility
Bath & Shower、Toilet、Fridge、TV・DVD、Phone、Table、Chest
E'
Number of beds
6F:1
Facility
Bath & Shower、Toilet、Fridge、TV・DVD、Phone、Table、Chest
F
Number of beds
4F:2
Facility
Shower only、Toilet、Fridge、TV・DVD、Phone、Table、Chest
According to the regulations, each room is charged per day, starting at 12 midnight. If you are hospitalized at 11 pm, we calculate it (from 11 pm to 12 midnight) as one day. When you stay overnight, you will be charged for 2 days regardless of the time of admission. Medical expenses such as examination, injection, treatment, surgery, medication, hospitalization fee etc. will be added. The fourth floor is designated as the Obstetrics and Gynecology Ward.