Cancer Treatment at Sanno Hospital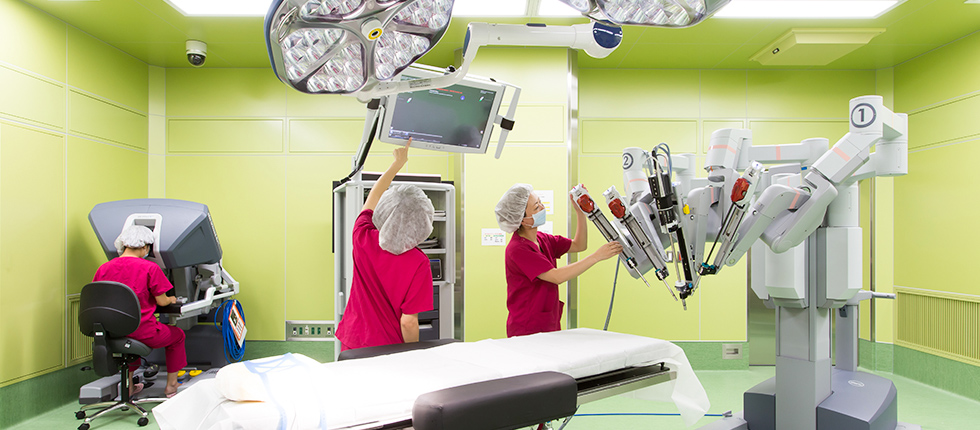 Our doctors with prominent records in each field conduct surgery for various malignant and benign tumors. Our operating rooms are equipped with the state-of-the-art medical equipment including the robotic-assisted surgical system "da Vinci". Aside from open surgery, we actively conduct minimally invasive surgery (with less impact on the body) using various types of endoscopy.
Gastroenterological Surgery (Center for Gastroenterology)
Both upper gastrointestinal surgery and colorectal surgery are performed by experts with abundant experience. Our expert doctors conduct precise testing by endoscopy, and if any abnormalities are found (at physical checkups and the annual physical at Sanno Medical Center), we are able to quickly move onto treatment and surgery. We actively choose minimally invasive surgery using endoscopy and laparoscopy in an effort to minimize the burden on the body and shorten the length of your hospital stay as much as possible.
Breast Surgery (Breast Surgery)
Our specialists conduct mammographies and ultrasounds at the same time, and actively use vacuum-assisted (mammotome) biopsies in an effort to achieve the early detection and treatment of non-invasive cancers and micro cancers smaller than a few millimeters. Our endoscopic breastconserving techniques and endoscopic subcutaneous mastectomy/ immediate breast reconstruction give high patient satisfaction for their postoperative state.
Respiratory Surgery (Pulmonary Disease Center)
Dr. Tetsuya Okunaka has experience in more than 3,500 cases of respiratory surgery, 70% of which were thoracoscopic. The center administered a total of 230 cases of chemotherapy (anti-cancer drugs) in 2015, in both outpatient and inpatient (short hospitalization) settings, carefully considering the patient's condition.
Surgery for prostate cancer using the da Vinci System (Urology)
Surgery with the "da Vinci" surgical robot enables procedures with increased precision compared to open surgery, less impact on the patient's body, and superior function preservation. Our qualified doctors, with extensive experience at Tokyo Medical University, perform this surgery after carefully examining each individual as an outpatient.
Gynecologic Oncology Surgery (Gynecological Oncology & Gynecology)
Doctor's offices are equipped with outpatient diagnostic instruments such as ultrasounds and colposcopes in order to help doctors provide prompt diagnosis.
We have achieved many successes with our treatments for advanced and recurrent cancers, which combine chemotherapy using anti-cancer drugs and extended surgical procedures.