Features of Medical Services
Painless Delivery with an Obstetric Anesthesiologist
Painless delivery not only removes pain, but also relieves stress. It is a mother-child friendly childbirth. Some of the few obstetric anesthesiologists in Japan offer 24-hour care. Based on solid technology, we provide safe and comfortable medical care.
Complete Fetal Examinations
We conduct various prenatal tests at the specialty clinic for fetal examinations, including ultrasounds, amniocentesis, and chorionic villus sampling. A medical geneticist provides counselling and explanations on prenatal test options, diseases and conditions that can be checked, and the accuracy of each test. You can choose to have a first trimester screening ultrasound, combined testing (blood test and ultrasound), quad screen test, or non-invasive prenatal genetic testing (NIPT).
Our experienced doctors give careful and thorough health checkups to mother and baby from the prenatal stage, and also try to help ease the concerns of expectant mothers.
Comprehensive Support by Midwives
Midwives support you and your baby even after birth with postpartum, childrearing and lactation care on an outpatient basis.
Collaboration with Sanno Hospital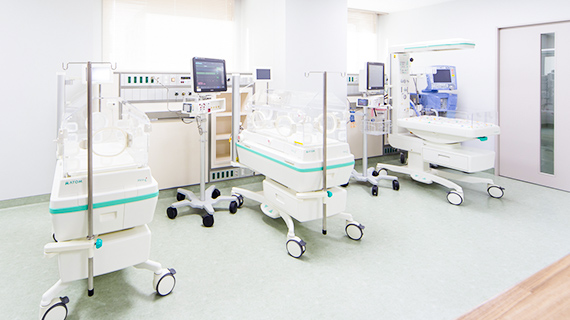 We have established a comprehensive system in collaboration with Sanno Hospital. The newly established NICU is located on the fourth floor of the same building as the Birth Center, giving expectant mothers a sense of security towards delivery and the postpartum period. In case you develop complications during pregnancy, you have access to various clinical departments at Sanno Hospital. We provide a complete service for health management right up to delivery.
Complete Fetal Examination with the advanced ultrasound technology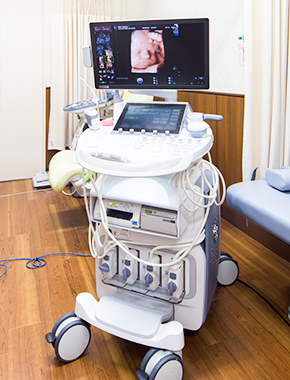 We have introduced a sophisticated ultrasonography that can display information on the formation of the fetal organs, bones, and blood flow more clearly.
At the specialty clinic for complete fetal examinations, we provide various prenatal tests, such as ultrasounds, amniocentesis and chorionic villus sampling tests. The sophisticated ultrasounds carried out by experienced doctors reveal fetal development, blood flow and any abnormalities in the formation of the fetal organs, such as the heart.
We also provide 3D / 4D ultrasound (※) images and pictures so you can see your baby, and keep them as a memento.
This is optional and for enjoyment, provided only to those who give birth at Sanno Birth Center or the Hospital.